French 3160 Introduction to Literature
French 3160 Syllabus Introduction to Literature

Dr. Cheryl M. Hansen
Office: Elizabeth Hall 430
Phone: 626-7912
Office Hours: MW 1:00-2:00, or by appointment
Email: cmhansen@weber.edu
Reading Materials: Autour de la littérature: Écriture et lecture aux cours moyens de français. Peter Schofer, Donald Rice/Sixth Edition.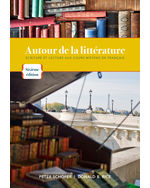 Course Description and Objectives: This course is designed to help students gain a better understanding of French language, culture and history through literature—both classical and non-traditional Francophone literature. The course materials are divided into six groups based on genre, and then each group starts with less difficult texts and advances to more difficult readings. Since there is an understandable gap between the vocabulary of third-year French students and French-speaking authors, this course will concentrate on a close reading of the texts, paying attention to detail, while allowing students to "play and create" with the language. The students will also learn how to "write" the text along with the author with pre-lecture, lecture and post-lecture activities. The final goal of the course is to help and encourage students to make reading French literature an important lifetime activity. It is presumed that students will have a language proficiency level of at least intermediate-low at the start of the class, and will move to the intermediate-mid or intermediate-high range by the end. Proficiency levels are based on the ACTFL Guidelines.
Course Grading: Students will be graded on homework and in-class activities. There will be three exams, one biographical presentation, one poetry presentation, two short papers, and a final project, which will include a short story to be shared with the class. The grading will be as follows:
Homework: 15%
In-class activities and participation: 15%
Three Exams: 30%—10% each
One PowerPoint presentation: 5%
One creative poem presentation: 5%
Two Papers: 10%—5% each
Final (short story): 20%
Procedures and Policies: All homework and in-class activities will be collected daily. Students should keep all work in a folder or binder for grade verification. Exams will be given in the Student Services Building Testing Center where students will have adequate time to complete all exams. Students are required to do all of the reading and homework assigned and to participate in class activities. Homework and papers are to be handed in when due, and late work will only be accepted before the next class period, but with a 20% reduction.
Services for Students with Disabilities: Students with medical, psychological or learning limitations or disabilities who desire academic adjustments or accommodations, must contact Services for Students with Disabilities at 626-6413.
Academic Honesty: Any form of cheating or plagiarism will result in a failing grade for the assignment (or the course in severe cases). For Weber State University's policy on cheating, please consult the WSU Student Code Section IV, Part D, Paragraph 2
Emergency/Closure: In the case of an emergency closure because of weather, natural disasters or flu alerts, students will be notified by email with instructions for how the class will be conducted and how assignments may be completed. Please make sure that your preferred email address is listed with the university class listing and on Canvas. That is the address I will use for all contact. To contact me, please use my Weber email address listed above.
Please type all compositions and poems. Homework may be typed or handwritten. Oral presentations, unless specified otherwise, should be given in a Power Point format.